This model of the Tribune Building in Chicago is 4 feet tall and contains 27,000 LEGO pieces.
On display with two other Chicago landmarks
The building was created together with the
Trump International Hotel and Tower
and
Water Tower Place
which are together on permanent display at the LEGO store at Water Tower Place Mall in downtown Chicago.
It was an absolute joy to replicate this classic, Gothically-styled building. Every last corner of the building is covered in ornate details, making it a great challenge to replicate it using nothing more than standard, off-the-the-shelf LEGO pieces.
The top of the building is covered in detailed facade work, made doubly complex by the fact that it octagonal shaped and has several different octagonal setbacks. (LEGO bricks like doing squares, but octagons can be a challenge when you know they need to line up with things on all eight sides and eventually close at the top.
Because I'm insane, I always have to make my building's windows with window shades behind them, some open, some closed, some halfway in between. It takes a lot longer to build the building this way, but it really adds a lot of life to the model. It's one of those things that you never realize is there, but if it was missing... you'd notice.
Much along the same lines, I have this bizarre fascination with "roof junk".
Creating the iconic "Chicago Tribune" lettering across the side of the building was fun. I spent an entire eight-hour day building the lettering in many different ways, until I finally had something that not only looked like the Gothic lettering from the newspaper's masthead, but that just as importantly fit in the proper space along the side of the building! (If you look closely, you'll see that the lettering is built completely sideways.)
At the start of the project I spent a full day designing the pattern of the windows. This building was to stand on display alongside five other Chicago landmarks, so it needed to be the same scale as the rest. That meant, however, that the windows would need to be 1.5 studs across, which was a problem since There's no such thing as half-of-a-LEGO-piece, let alone such a thing as a window. So I devised this idea and used tan bars (commonly used as light sabers or magic wands in retail LEGO sets) as a visual divider halfway between the windows. They mimic the real building's thin strips of bricks between sets of windows.
Building it
Can you figure out how these diagonal windows are built? Here's a hint ... There's no glue, no cheating, and lots of voodoo.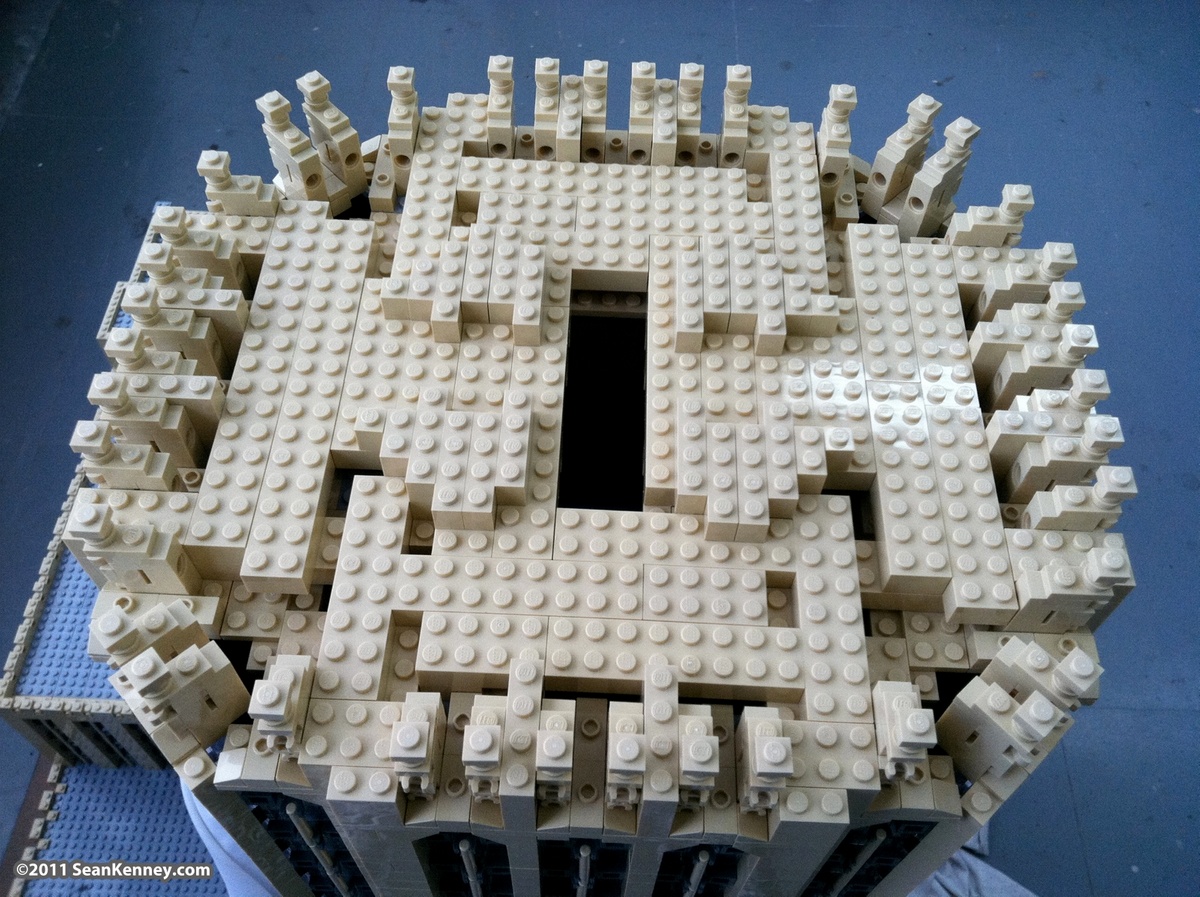 Unlike most of my sculptures, the entire model is ~unglued~ and managed to make its way to Chicago from my New York art studio in one piece!
Visit!
You can see this model in person! It's on permanent display at the Chicago LEGO Store.
835 N. Michigan Avenue.
Chicago, Illinois 60611
Monday - Saturday: 10 am - 9 pm
Sunday: 11 am - 6 pm